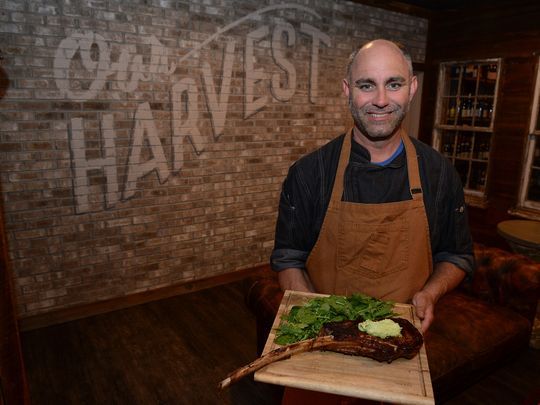 Sitting on a leather couch older than they are, John Trader, legs crossed, relaxed, made a proclamation about his and all of our grandparents and their dinner tables.
"I feel like our grandparents were better at having dinner than we are," Trader said. "I feel like our grandparents, at their kitchen tables, there was conversation. There was connection.
"Now we have dinner in our car, we have dinner on the couch watching the game," he continued. "I feel like we're in danger of losing something really important about the dinner table."
So Trader, 56, longtime owner of Liquid Assets in Ocean City, is doing his part to preserve that dying art.
In the space that used to be occupied by Claddagh in Fenwick Island, Trader's Our Harvest is what he calls a "literal homage to a nostalgic, old-world type of food and palate and plating and environment that encourages things that are easy for all of us."
The restaurant, which opened in the first week of May, was conceived with the inspiration from an era of dining gone by the wayside, Trader says. The name is very literal for what kind of food is on the menu. The highest-quality, freshest ingredients are sourced from Canada to Frankford and beyond. Whatever they "harvest" is what makes its way on the menu.
"This is an attempt to try and get everybody to slow down a bit," Trader said. "Sit back in your chair. Enjoy your cocktails. Enjoy your wine. Have a really big meal. Take some extra time and say the things you need to say. That sort of thing. Inspiration started there, with that aesthetic."
And that aesthetic isn't just translated in the food and drink options.
The couches Trader and others were sitting on were made in the late 1800s, he said, and were purchased at an auction along with similarly-old wooden cabinets from Normandy.
Upon greeting him at the door, Trader immediately wanted to show off the rustic interior. Right of the entrance, in a room that can be closed for private dining, 100-year old wood from Timmons Mill, once west of Berlin, Trader says, lines the frame. You can still see saw marks on the wood.
To shut that room off, you'd need to slide the white, 1860s firehouse doors from Lancaster County, Pennsylvania, shut without getting a splinter.
The tables Our Harvest expedites its food from are matching long, dense tables from 1900s France.
Trader took us behind the bar, where handcrafted cocktails and soft, romantic lighting pay respect to an "age gone by."
"A little bit sexy, if you will," Trader said.
"Like a cigar box," a bartender quipped.
It was already obvious, but Trader said it anyway. He hates drywall.
"I have an aversion to anything sort of straight, ordinary, narrow," Trader said. "I like authentic. I like authentic in my food, in my wine and in my environment. To me, the whole thing has to be authentic or nothing is authentic."
Our Harvest has seemingly accomplished the authenticity part, and its open-kitchen concept allows for views of the art in motion.
Trader had his kitchen team, with longtime company employee Guy Bashore one of its leaders, bring out two dishes from the "feasts" section of the menu, a rotating harvest of proteins.
The chicken, from Giannone in Quebec, Canada, sits for two days in an Arnold Palmer — yes, the drink — brine and is cooked in a rotisserie and in an Alto-Shaam high-temperature oven. Before plating, it's popped in the 700-degree pizza oven Our Harvest uses to make its wood-fired flatbreads to crisp the skin. It's simply dressed, with a little bit of lemon and rosemary.
Trader loves the "perfume" it gives off.
That night's daily steak harvest was a 30-plus ounce certified angus tomahawk steak, cooked to a beautiful medium rare and topped with ramp butter. As Trader promised, the fat caramelized and the beef was of melt-in-your-mouth quality. There were some local greens on the board, but Trader's probably seen more people pick up their bone and gnaw it clean than pick up a green. And that's no slight to the greens.
The menu, for its concept, is actually quite large. The options range from "little bites," like homemade whipped ricotta and duck meatballs to "small bites" like house-made pasta and pickled local strawberry tuna tartare. Those sections, along with the flatbreads (with plenty for both meat and veggie lovers) give way to the platter-portioned proteins, which will usually feature local seafood. On this visit, the daily fish harvest included 2 pounds of sea bass and a 1-ounce halibut cheek.
Trader spoke highly of the food. He mentioned the big, rich, simple flavors. The taste and quality, he says, is what matters most. The alcohol, it seems, he's left for his sommelier and beverage manager, Heather Sharp.
Sharp brings a wealth of knowledge in beverage to Trader — a 36-year food and drink professional — and Our Harvest. She last worked at Laurel in Philadelphia, owned by "Top Chef" winner Nicholas Elmi, a 2017 semifinalist for Best Chef in America at this year's James Beard Foundation awards.
Sharp heads a wine program that features a wide range of pricing and styles. There are handcrafted cocktails, too, of course. The decanted Manhattan features Rittenhouse Rye, Cocchi di Torino vermouth, Don Ciccio Amaro delle Sirene (instead of bitters) and a luxardo cherry.
"We try to use ingredients that people may not be familiar with, like yuzu, which we get straight from Japan," Sharp said. "We are using spirits that we think are produced with integrity. And we just try to find something with a great balance.
"We approach cocktails the same way a chef would approach food."
The eye-opening impact and unfamiliarity is something Trader enjoys.
"We've been breaking down inhibitions and opening eyes and opening doors and giving people opportunities to taste and experience things in certain settings that weren't available prior," he said. "I don't mind opening eyes and mouths to new things. I'm excited by that."
Right now, he's got plenty to be excited about.
But for all Our Harvest's rustic chic setting has to offer, Trader doesn't consider it a "trendy" restaurant. It's not quite like anything else on Delmarva. But the "old is new" concept is sort of renaissance happening in other food cities. Trader pointed to Philadelphia, New York, D.C., Baltimore and Charleston as examples.
This, he said, is his spin on it.
"Just imagine how much of a rush it must be when you have that dream," Trader said. "And then you translate the dream to the architect and then the architect to the builder and the builder to the permitting and the lawyers and the business plan and the purchase — it's a process. So you go through that process and then when you see people just go elbow-deep into their dinner with big grins on their face, it's a good thing. Very rewarding."
And for the rewards like reviews? He said he's already seen return customers. The Facebook reviews — 80 so far with a 4.9 average rating — have been stellar since the May 7 opening.
"You know very quickly," Trader said. "It has very little to do with the social media postings or anything like that. You can look at the table, and when it's quiet and people are laughing and they have their sleeves rolled up, napkin under their neck and the wine is flying, their meal that they thought was going to be an hour and a half is really two hours and 20 minutes … that's when you know."