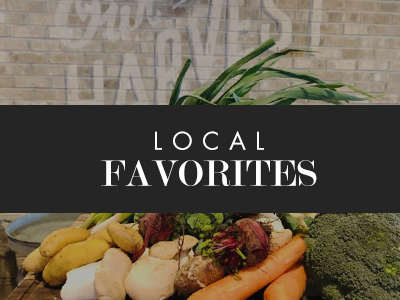 Our Harvest invites you to make the short drive to scenic Fenwick, DE and pull up a seat at their table, an outing I'd certainly recommend. The menu at this farm-to-table restaurant – in the truest sense of this moniker – highlights meats, produce and other fresh ingredients from trusted sources that change seasonally, and even daily, to represent the current harvest. And don't just expect a distinctive dinner at Our Harvest; the hospitable and knowledgeable staff are sure to provide a complete dining experience that you won't soon forget.
In fact, this unique experience was the inspiration behind restauranteur John Trader, who also owns Liquid Assets in Ocean City, opening Our Harvest. He wanted to create an atmosphere where friends and family can gather and slow the pace of their chaotic lives for a few hours. Enjoy craft cocktails, like the Hickory Smoked Old Fashioned, while lounging on the couch and catching up in one of many intimate seating areas. And dinner here is reminiscent of dinner at your grandmother's house, with a menu designed for sharing from Smalls and Wood-Fired Flatbreads to Feasts and Desserts.
On your first visit, starting off with the baker's selection of warm artisan Daily Bread is a must. Other delicious Smalls on this season's menu include Fifer Farms Grilled Asparagus (grown right here in Sussex County), Artisan Cheese, and House Made Lamb Merguez Sausage Meatballs. I always love to order a flatbread too, perfect for enjoying over the first (or second, or third) glass of wine. The Proscuitto di Parma and Local Arugula Flatbread pairs nicely with a bottle of Do Ferreiro Albarino. Prefer a different white wine or rose during these warmer months? Our Harvest's wine list is sure to impress you with endless options of bold, oaky and sweet wines for any occasion or palate.
Next up is arguably the star of the show – the large platter-style Feasts. The presentation and rich flavors of the chef's daily steak or fish harvest will both wow and satisfy everyone at your table. (Check the menu before visiting Our Harvest for the day's specific Feasts.) And you can't possibly end your dining experience without dessert. The Beignet Feast is a classic here and one of my personal favorites, while the Strawberry Shortcake promises all the tastes of summer.
When you find yourself wanting to unwind and connect with an old friend, or perhaps your family when on vacation, head to Our Harvest. The inviting and cozy ambiance to everything served from the kitchen and bar will encourage you to linger awhile and focus on what's truly important: gathering and sharing both good food and memories around the table.