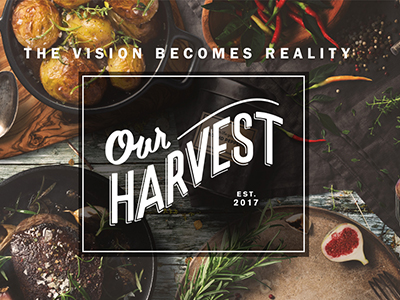 Five months after opening Our Harvest in Fenwick Island, DE, founder John Trader, reflects on the journey, the initial success, and the inspiration behind the restaurant.  From inception to completion, Trader explains the driving force behind Our Harvest was the desire to provide a unique and memorable dining experience that celebrates both food and fellowship and encourages guests to slow down, enjoy their meal, and reconnect with one another.
Recognizing the lost art of meaningful dining in today's fast-paced society, Trader sought to introduce a restaurant reminiscent of bygone days when meals were unhurried where families and friends lingered around the table sharing memories and catching up on the day's events.  Trader's vision was to encourage guests to take a break from the ordinary, put down their cell phones, forget about their hectic schedules, to-do lists and looming deadlines and connect with each other.    He explains, "it seems as a culture, our grandparents may have been better at having dinner than we are.  For our grandparents, dinner was something that you never missed, where you sat down together and shared your thoughts and dreams and your comings and goings of the day.  It seems like this generation we are eating on our laps in a car on the way to practice, or eating in front of a television, or with a laptop in our hands, or at a table where the full family doesn't get there on time or at all."
Clearly, Trader tapped into something with Our Harvest and struck a chord with guests who shared his desire to enjoy a good meal and relax and unwind in an environment reminiscent of simpler times.   Trader admits he has been humbled by the overwhelmingly positive response to Our Harvest and attributes the initial success to introducing the "right restaurant at the right time.'  He says, 'the pace and aesthetic of the restaurant coupled with the genuine hospitality of the staff are aimed to help people feel comfortable, relaxed, and unrushed and encourage them to laugh, enjoy a second cup of coffee or wine, slow down, and share some of the moments in their lives that may get overlooked or passed over in a more hectic environment."
Trader shares that it has been really rewarding seeing his vision become a reality.  He explains, "There's no better feeling than to watch the translation of a concept take shape and become reality.  It's been so wonderful to see people enjoying the restaurant as I meant for it to be enjoyed.  People are coming in, relaxing at the table, sharing plates, and having prolonged conversation with family and friends.  From the guests who celebrated their 50th Anniversary together to the family of eight talking about everything that has happened over the last few weeks, guests are celebrating and reconnecting as I had hoped.  People have thanked me for opening a restaurant where they can have that ability to share those hours together. That has been the most rewarding."
Trader also recognizes that the food is equally as important as the experience at Our Harvest and, as such, goes to great lengths to offer menu items that feature seasonal products and flavors and use the highest quality ingredients from the most reputable, trustworthy sources.  Given the seasonality of the harvest, the menu changes frequently giving guests a reason to continue to come back and sample the newest dishes at Our Harvest.  According to Trader, "nature's rotation makes our restaurant and our menu reflects that. What nature provides, we will serve that day, which is exciting.  We look forward to getting into the next harvest.  All the fruits change, all the vegetables change, all the herbs change, all the meats change."  Although summer dishes using fresh, heirloom tomatoes and succulent peaches were extremely popular, Trader hints at new seasonal dishes that feature fall and winter flavors.  He's particularly excited to offer, "leg of lamb, pumpkin breads, Brussel sprouts, yams, turkey, whole pigs, fowl duck and goose, and all the sorts of flavors that are darker, richer, heavier flavors that you associate with the colder months.  The key will be giving a lot of thought into what our guests want and what the harvest represents."
Trader extends a heartfelt thank you to everyone who has experienced the first few months of Our Harvest contributing to its success and welcomes everyone to join us at the table to unwind and enjoy a symphony of Fall flavors fresh from Our Harvest.